Select tickets
Enter details
Payment
Complete!
Tickets
The 2017 Ludlow Marches Food and Drink Festival will take place on 8th-10th September 2017 in Ludlow, Shropshire, England; the small town with the large reputation for good food and drink.
THE 2017 TICKETS ARE NOW AVAILABLE TO BUY ONLINE
Featuring more than 160 top quality small independent food and drink producers from Ludlow and the Marches, free talks and demonstrations, children's activities, 'hands-on' workshops and much more all inside Ludlow Castle. Throughout Ludlow's historic town centre there is seemingly no end of food-related events, such as the famous Ludlow Sausage Trail and Real Ale Trail, not forgetting all the old favourites both inside and outside the Castle, including pudding tastings, markets and much much more!
If you are lucky enough to be coming with 15 or more people then please either download a * group booking form or contact us 01584 873957 or email sally@foodfestival.co.uk.
The Slow Food Taste Workshops programme and online booking facility will be available from July 2017; please go to their website www.slowfoodludlow.org.uk where you'll be able to book the specific sessions.
All tickets bought online are valid up to and including the 2017 Food and Drink Festival which runs 8th-10th September 2017 from date of purchase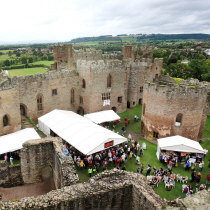 • 1 Adult £8.00
• 2 Adults £16.00
• 3 Adults £24.00
• 4 Adults £32.00
• 5 Adults £40.00
• 6 Adults £48.00
• 1 Child 5-13 yrs £2.00
• 2 Children 5-13 years £4.00
• Family £20.00

• 2 Day - FRI & SAT - 1 Adult £14.50
• 2 Day - FRI & SAT - 2 Adults £29.00
• 2 Day - FRI & SAT - 3 Adults £43.50
• 2 Day - FRI & SAT - 4 Adults £58.00
• 2 Day - FRI & SAT - 5 Adults £72.50
• 2 Day - FRI & SAT - 6 Adults £87.00
• 2 Day - SAT & SUN - 1 Adult £14.50
• 2 Day - SAT & SUN - 2 Adults £29.00
• 2 Day - SAT & SUN - 3 Adults £43.50
• 2 Day - SAT & SUN - 4 Adults £58.00
• 2 Day - SAT & SUN - 5 Adults £72.50
• 2 Day - SAT & SUN - 6 Adults £87.00
• 2 Day - FRI & SUN - 1 Adult £14.50
• 2 Day - FRI & SUN - 2 Adults £29.00
• 2 Day - FRI & SUN - 3 Adults £43.50
• 2 Day - FRI & SUN - 4 Adults £58.00
• 2 Day - FRI & SUN - 5 Adults £72.50
• 2 Day - FRI & SUN - 6 Adults £87.00
• 3 Day - 1 Adult £20.00
• 3 Day - 2 Adult £40.00
• 3 Day - 3 Adults £60.00
• 3 Day - 4 Adults £80.00
• 3 Day - 5 Adults £100.00
• 3 Day - 6 Adults £120.00
Your Basket
Item
Price
Qty
Subtotal
There are no items currently in your basket

Total

£0.00